Deforestation kills the orangutans
Orangutans (Pongo pygmaeus and Pongo abelii) are native to Indonesia and Malaysa where they are found in the wild only on the islands of Borneo and Sumatra. Their name derives from the Malay and Indonesian phrase 'orang hutan', meaning 'person of the forest'.
Both the Borneo Orangutan and the Sumatran Orangutan are classified as Critically Endangered, with about 50,000 individuals left on Borneo and 6,600 individuals lefts on Sumatra.
OF ORANGUTAN HABITAT HAS BEEN DESTROYED IN THE PAST 20 YEARS
OF INDONESIA'S FOREST CAN BE GONE BY 2020
SUMATRAN ORANGUTANS LEFT IN THE WORLD
The main threat to orangutans is the deforestation where 80% of their habitat have been destroyed over the last 20 years. According to UNEP (United Nations Environment Programme) as much as 98% of Indonesia's forest can be gone year 2020. The reason for the deforestation is mainly to make space for palm oil and rubber plantations, where the forest are not seldom illegally harvested and burned.
Do you want to support us in helping the orangutan from going extinct? Please click the button below to read more about how you can help. Thank you!
Help us!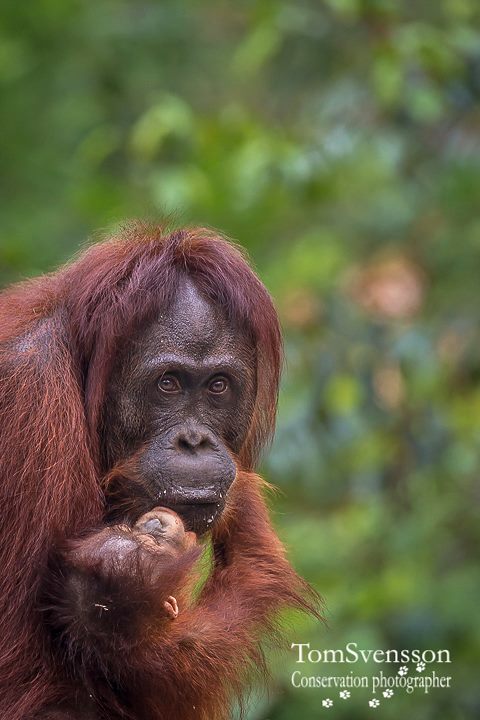 A healthy tree life nurtures healthy orangutans
Orangutans spend most of their time in trees, feeding on fruits, leaves, seeds, barks and insects. Orangutans use a variety of sophisticated tools and construct elaborate sleeping nests each night from branches and foliage. When the forest is removed, so is their home.
Another threat to orangutans is the illegal wildlife trade, where the infants are often smuggled abroad and sold as pets.
Wildhood projects for protecting the orangutans:
Click on a project to read more about how Wildhood works to protect the orangutans from extinction.
No Results Found
The page you requested could not be found. Try refining your search, or use the navigation above to locate the post.