Sudan, the world's last male northern white rhino, died yesterday Monday 19th of March. This means that the northern white rhino species is extinct. Sudan's death at the age of 45 leaves only two females of the subspecies alive in the world.
We reported a few weeks back that Sudan was suffering from age-related complications that had lead to extensive skin wounds. Despite the best possible care, his condition worsened and the last 24 hours he was not able to stand and was suffering. The veterinary team Dvůr Králové Zoo, Ol Pejeta and Kenya Wildlife Service therefore decided to put him down.
We on Ol Pejeta are all saddened by Sudan's death. He was a great ambassador for his species and will be remembered for the work he did to raise awareness globally of the plight facing not only rhinos, but also the many thousands of other species facing extinction as a result of unsustainable human activity. One day, his demise will hopefully be seen as a seminal moment for conservationists world wide. Said Richard Vigne, Ol Pejeta's CEO.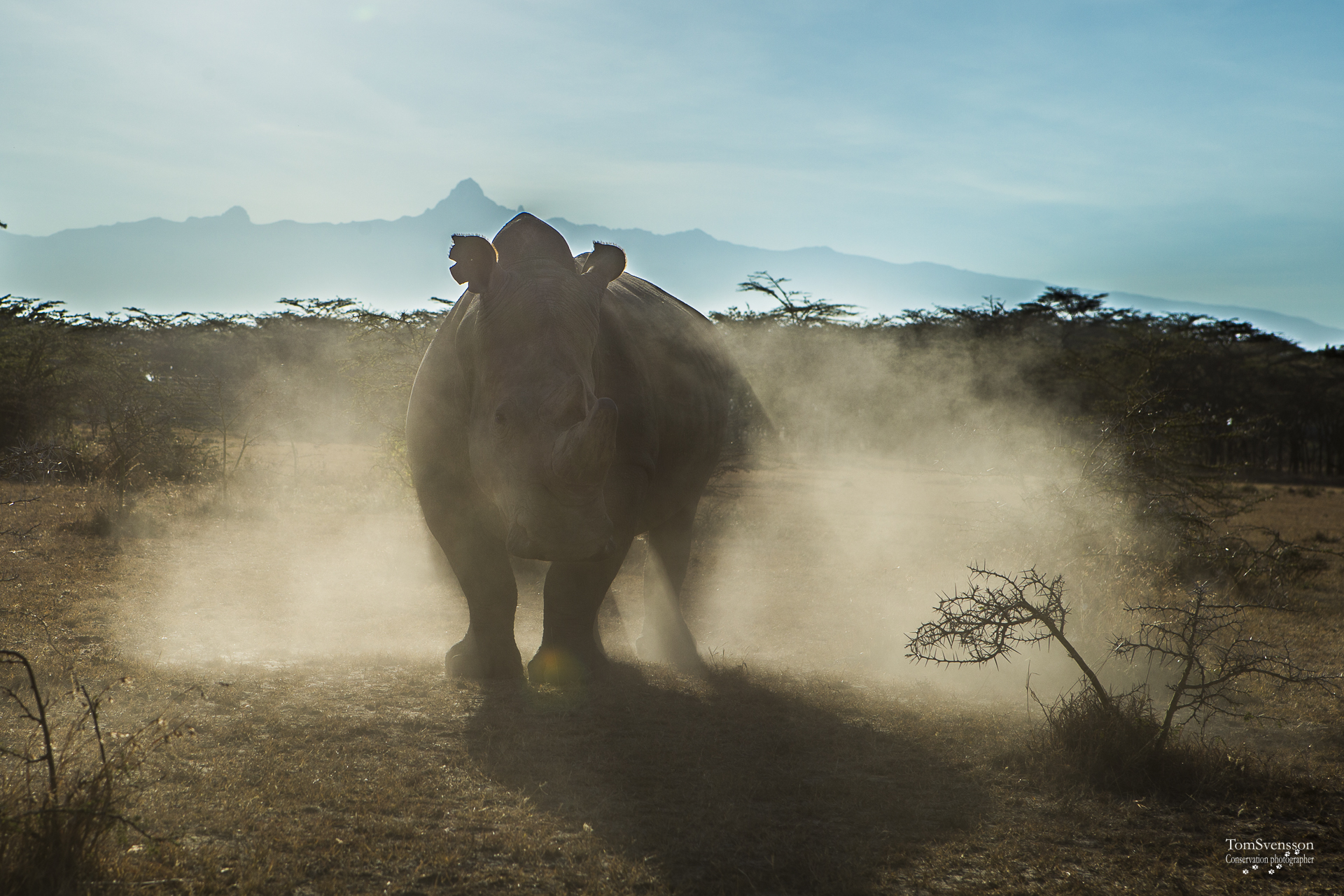 Sudan was captured in Sudan shortly after his birth in 1975 and taken to Dvůr Králové Zoo in the Czech Republic along with five other northern white rhinos. He quickly became a legend, mostly because of his status as one of the last males of the northern white rhinos. He was relocated in 2009 to Ol Pejeta Conservancy together with three other northern white rhinos (one male and two females). The species was by now almost certainly facing extinction and the move of Sudan was one way to try to save the species, hoping that a more natural habitat would overcome the rhinos' unwillingness to breed and thereby ensure the continued existence of this subspecies.
In 2014 the two other remaning males died and left Sudan as the last male of his species. The future of the species depended on him, but sadly it soon became clear that his vigor wasn't what it once was, which is not surprising given that he was over 40 years old – which corresponds to 80+ human years. He became worldwide famous in 2017 when the dating app Tinder together with Ogilvy Africa featured him as "the most eligible bachelor in the world". The donations from this campaign funded research of rhino IVF, one of the attempts to save the species.
Yesterday on 19th of March 2018, Sudan passed away leaving the world one species and one beloved rhino poorer. Sudan died from age-related health issues, and although it comforts that Sudan's passing away was not in the brutal hands of poachers, it is extremly sad to witness the manifestation of human greed in the extermination of these majestic animals. Fatu and Najin, the two northern white rhino females, are now the two very last individuals of this sub-species remaining on earth.
Sudan was the last northern white rhino that was born in the wild. His death is a cruel symbol of human disregard for nature and it saddened everyone who knew him. Said Jan Stejskal, Director of International Projects at Dvůr Králové Zoo
R.I.P. Sudan, you helped bring much needed global attention to the extinction crises!