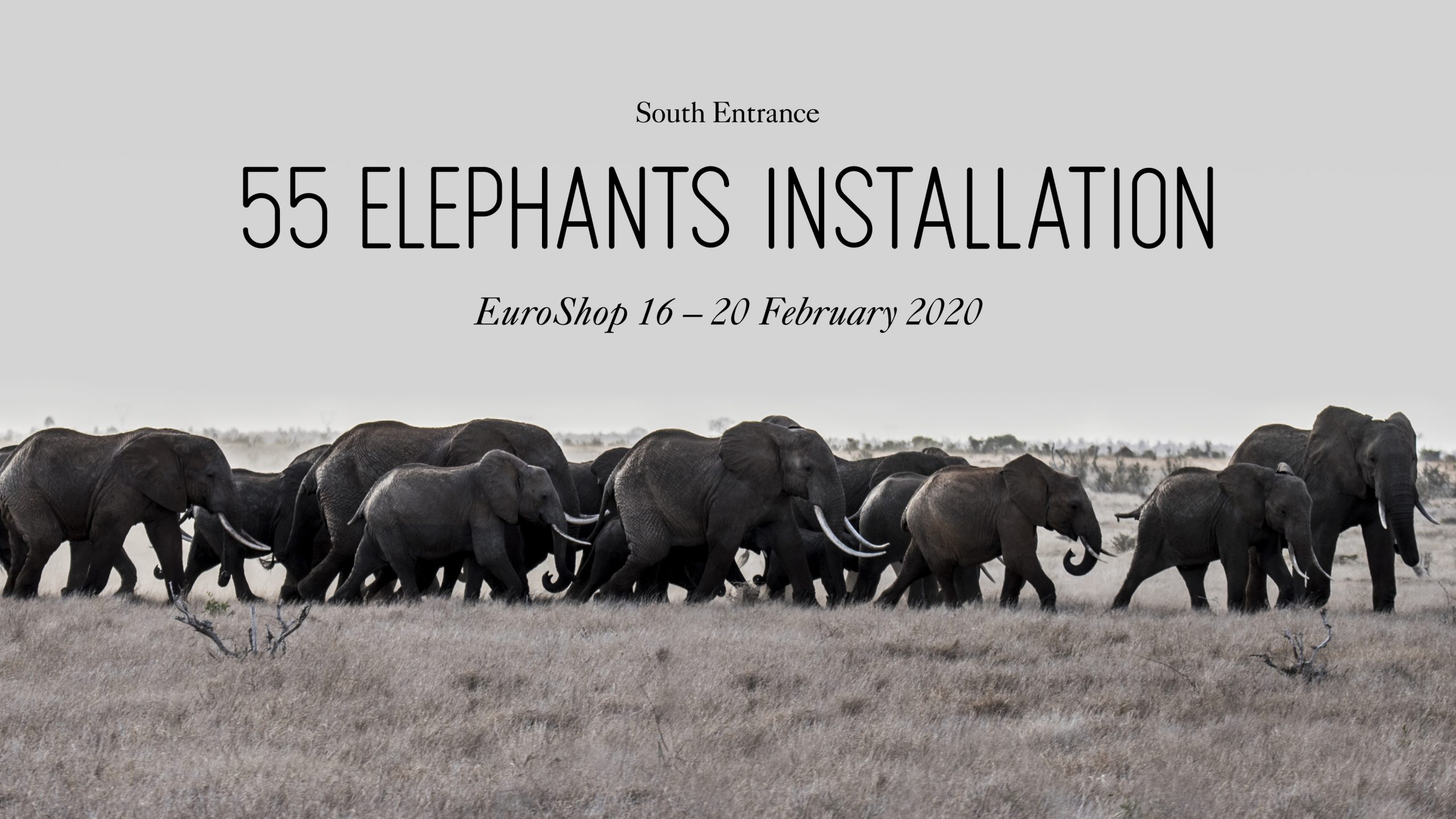 Did you know 55 elephants are killed every day?
In Africa's wilderness there is a battle to protect wild animals from poachers. More than 20 000 elephants are killed every year for the illegal trade in ivory and today only about 400 000 elephants remain on the continent. If it continues like this the elephant risk to get extinct in the wild within our lifetime. It's a race against time to save this iconic species! 
Between February 16 – 20 you will find Wildhood's 55 Elephants at the EuroShop Retail Fair in Düsseldorf. The massive installation, which was last year successfully exhibited in Stockholm, aims at raising awareness of the extent to which poaching is going on. To show what a real herd of elephants is like, Wildhood's 55 wooden elephants are built in real size.
Adopt a baby elephant at EuroShop! 
During winter our elephants have had some time to reproduce. That means we now have 25 baby elephants up for adoption and you have a chance to give them a new home!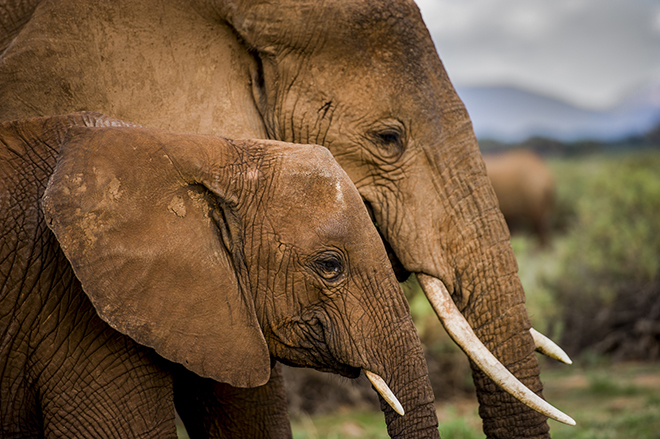 This is how it works: you or your company donate €1000-1500 for the adoption and the baby is yours. You will find us in EuroShop's Hall 1, right at the South Entrance. You can donate via swish, paypal, bank transfer or we will send an invoice. With the adoption follows a receipt and a certificate.
The elephant come in a take away-box and is easily put together. The size is equal to a real baby elephant and measures 1,3 x 1 m. It is made of FSC-certified plywood at ITABs factory in Sweden and weighs about 20 kg.
If you have a stand at the fair we suggest you put your baby elephant there to let people know you support a living planet. After the fair, the elephant will be a smart decoration at your office, in your showroom or in your home.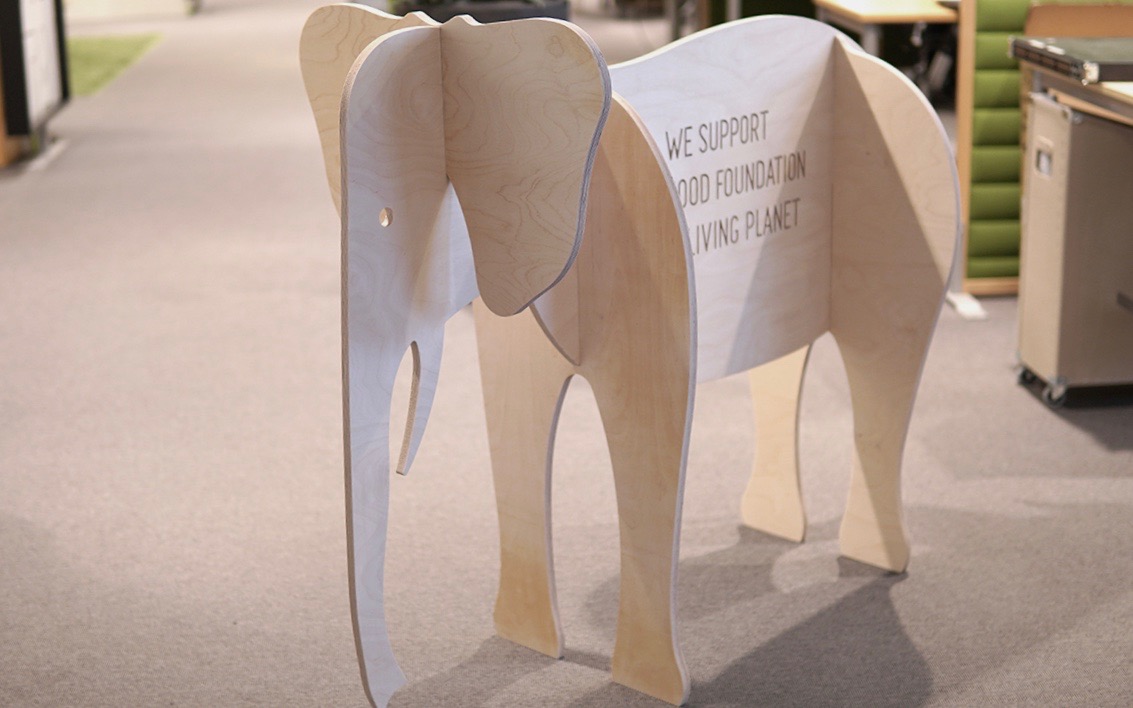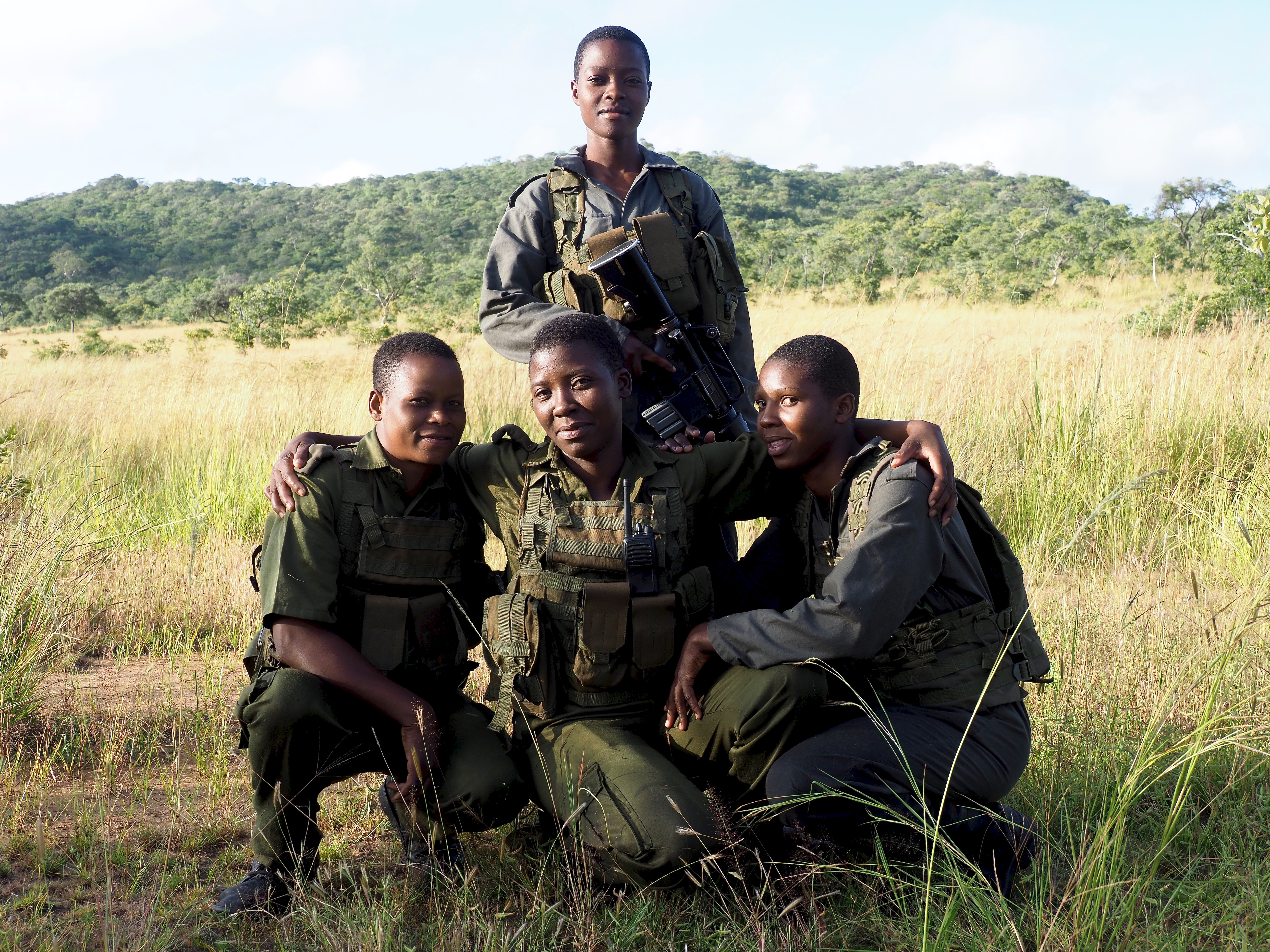 Your donation will go to support the protection of Africa's second largest elephant population in Zimbabwe's Lower Zambezi Valley. The donation will cover 6 months salary for one female park ranger in the successful Akashinga project which employs and empowers women as rangers, led by our partner International Anti-Poaching Foundation.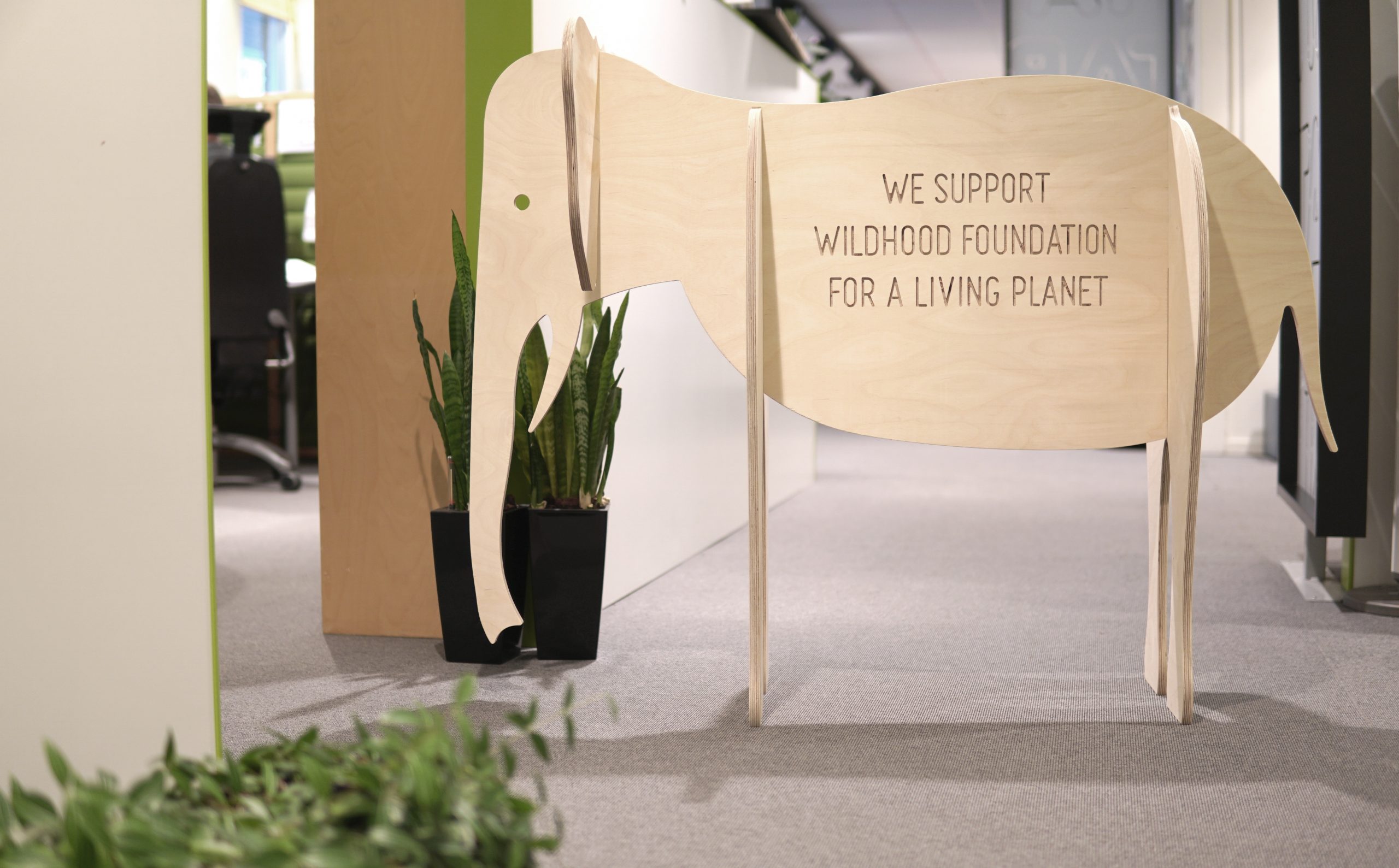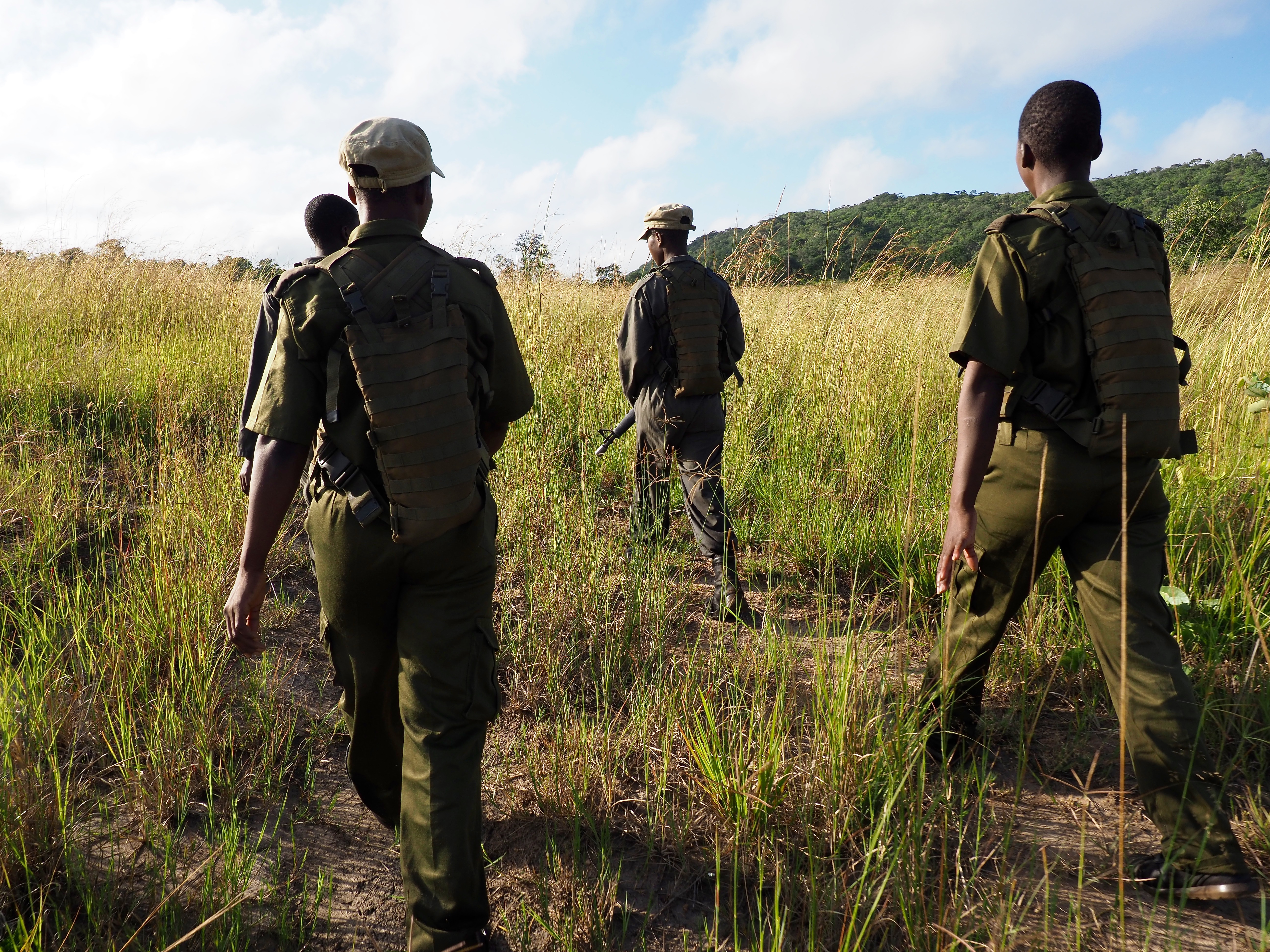 To thank you for your support your name and logo will be displayed here at our website. And remember the opportunity to adopt an elephant is limited as we only have 25 babies in our herd. Get in touch with filippa@wildhood.org or +46724491500 to book your baby!
Wildhood Foundation & Illegal Wildlife Trade
Wildhood Foundation is a Swedish non-profit organization working to protect elephants and other threatened species against poaching and illegal trade. This is part of a greater ambition to conserve earth's biodiversity. According to the WWF Living Planet Report species population sizes have declined with 60% in the last 40 years. One million species are threatened by extinction.
In 2015 the United Nation set out its Global Goals to stimulate action in areas of critical importance for humanity and nature. It defines 17 Sustainable Development Goals and 169 targets to transform our planet over the next fifteen years. Of critical importance for wildlife is Goal 15: Life on Land, which aims to "protect, restore and promote sustainable use of terrestrial ecosystems, sustainably manage forests, combat desertifcation, and halt and reverse land degradation and halt biodiversity loss." Goal 15 explicitly address the issue of poaching and wildlife trafficking in target 15.7 and 15.c. Wildhood Foundation actively works to meet these targets.
100% of Wildhood's fundraising go straight to selected local efforts which physically protect wild animals on the ground in Southern Africa. 
The last decade's strong economic growth in Asia has led to a rising demand for parts of wild animals, for traditional medical purposes and as status symbols. This has fueled the illegal wildlife trade which is now one of our world's biggest criminal businesses worth over $ 20 billion a year. The trade is a major threat to biodiversity on our planet but also to global security since the trade is being managed by well organized crime and syndicates with links to terrorism.  
Every day 55 elephants are killed for thier tusks. Within our lifetime this iconic specis can be gone.
What is Wildhood Foundation's mission?
Raise funds to protect wild animals from poaching and illegal trade
Raise awareness to increase the knowledge about poaching and illegal wildlife trade
Help reduce the demand for illegal wildlife products
Support local efforts and operations that protects wildlife on the ground
Forward 100 % of all funds raised to these operations
55 Elephants in Stockholm 2019
The production in Nässjö, Sweden